Complete Guide for Caribbean Stud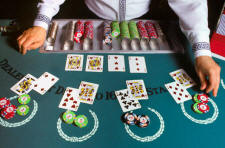 Caribbean Stud Poker is a variation of 5 Card Draw Poker except the game is played against the house and not against other players. Players don't have to make as many decisions in Caribbean Stud Poker as they do in 5 Card Draw because the game is played against a single dealer in a highly structured manner.
The game is largely free of decisions and therefore relies primarily on luck. The only strategy in the game occurs when players decide whether or not to continue with the hand after seeing one of the dealer's cards.
A typical round of Caribbean Stud Poker plays like this:
- Each player places an ante on the table in the box labeled "Ante"
- Each player and the dealer are dealt five cards face down. Players may not touch their hands at this time
- The dealer then turns one of his cards up. The players may now look at their cards
- The players now have two choices:
- They may fold and forfeit the ante, or they may continue on by placing another bet equal to twice the ante
- After all the players have made their choices, the dealer reveals the rest of his cards.
- The dealer then compares his hand to each player's hand. The players who have better hands than the dealer win their antes back and get an extra payout according to a pay table posted at the poker table.
The pay table can change at different casinos but it usually pays something along these lines: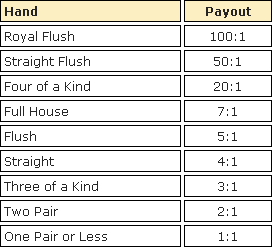 Players win these payouts only if their hand beats the dealer's hand. If a player ends up with two pair but the dealer has three of a kind, that player wins nothing.
The minimum hand for the dealer to qualify is Ace/King. If the dealer does not have at least Ace/King at the end of the hand, the bet is considered a push and the dealer pays even money on each player's ante.
Side Bet
You have the option to place a $1 side bet at the beginning of each hand. This bet feeds a progressive jackpot that offers additional payouts for hands ranked flush or higher. Every dollar paid into the side bet makes the total progressive jackpot grow a little larger. When someone hits the jackpot, it is reset at a specific dollar amount and continues growing until someone hits it again.
The pay table for the side bet varies greatly from casino to casino, but a typical pay table looks like this: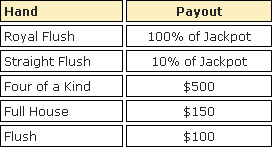 The side bet looks like a good deal at first glance because it offers attractive payouts for a small bet. However, in reality this is a sucker's bet. The house edge is huge on the side bet, so stay away from it unless the jackpot has reached $150,000 or more.
Caribbean Stud Strategy
The optimal strategy for Caribbean Stud Poker is actually pretty complicated, but it can reduce the house edge to just 5.23%. Instead of trying to memorize the highly complicated perfect strategy, you can use the basic rules below to keep the house edge at a minimum.
Raise with any pair or better
Raise with any hand including an Ace, a King, AND another card that matches the dealer's up card
Fold all other hands
Table Etiquette
Players are not allowed to talk about their hole cards during the play of the hand. If you communicate anything about your hand to another player, you'll lose your wager and your hand will be considered dead.
Remember to only touch your cards when you are allowed to look at them - and make sure you keep all five cards in view of the dealer at all times. After you look at your cards and set them down again, you're not allowed to touch them any more.
Remember to tip the dealer. You can tip the dealer directly or place a bet for the dealer.
Ready to Play Caribbean Stud?
If you like Caribbean Stud and are ready to try it out, make sure to head over to Rushmore Casino. Rushmore is USA friendly and offers great Caribbean Stud games. Plus, they have a $888 bonus through the link below:

#1 Caribbean Stud Casino - RushmoreCasino.com
(USA-Friendly!)
RushmoreCasino.com is our #1 rated Caribbean Stud casino for a ton of reasons. They're USA friendly, accept credit card deposits, and most importantly, offer amazing Caribbean Stud Poker games. Their graphics are crisp and clear, and their payouts and odds are fair. Rushmore is currently offering a 100% up to $888 bonus over players' first two deposits. To receive this bonus, make sure to sign up through the banner on the left, or any of the Rushmore casino links on this site. If you'd like to learn more about the bonus or the casino in general, make sure to read our full review.
» $888 Bonus via this link » Full Rushmore Casino Review