Complete Guide to Let it Ride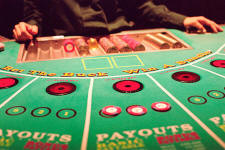 Let it Ride is a popular casino card game that closely resembles 5 Card Draw, except the players play against the house instead of against each other. The game has become popular with casino players lately because it offers a low house edge, large payouts, and an easy, slow pace.
The dealer's cards are used as community cards. This means each player uses the cards they are dealt in combination with the dealer's cards to make the best 5 card poker hand. Each player starts out with 3 bets and 3 cards and can choose to take back the bets or "let it ride" as the game progresses.
A typical round of play looks like this:
1. Each player places three equal bets in front of him.
2. Each player is dealt three cards face down.
3. Three community cards are dealt face down in the middle of the table.
4. One of the community cards is selected at random and discarded.
5. Players may look at their cards and choose to take back the first bet if they don't like what they see. If they like the look of the hand so far, they may "let it ride".
6. The dealer exposes one community card and the players now have the choice to remove the second bet or let it ride.
7. After all the players have made a decision, the dealer flips over the final community card along with each player's cards.
8. The dealer compares each player's hand with the community cards to determine the final hands.
9. The dealer collects all the losing bets and pays out the winnings bets to players who have made a strong 5 card poker hand.
Players get paid not for beating other hands but based on the strength of their hands alone. The payout chart can vary at individual casinos but the most common pay table looks like this: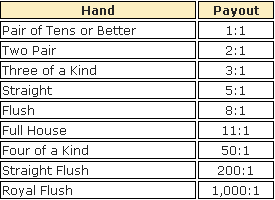 The odds of getting each hand are as follows: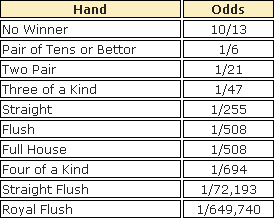 Side Bets
Players may also place an additional side bet that pays for strong three card poker hands. If players get a pair, three of a kind, three card straight, three card flush, three card straight flush, or a three card royal flush, they will win additional money for this side bet.
There is a second side bet players may place in the Let It Ride Tournament spot on the table. This bet is only $1 and it offers extra payouts for making winning 5 card poker hands. Players who make the $1 side bet get the following bonuses for winning poker hands: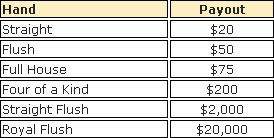 The actually dollar amounts on the payout table vary from casino to casino, but this is a pretty common example. It's an enticing bet because players can win up to $20,000 extra just for placing an additional $1 bet.
Let It Ride Tips
The house advantage of Let It Ride varies based on the strategy the player uses. Players who use a mathematically correct strategy can reduce the house edge to just 3.5%. Here's how you play to get the most bang for your buck: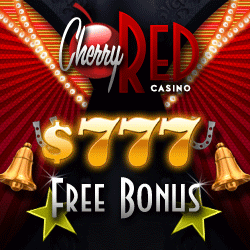 Take back your first bet every time unless you have one of the following hands:
A pair of tens or better
Any three cards to a royal flush
Any three suited connectors (unless the lowest card is a 2)
Take back your second bet every time unless you have one of the following hands:
Any winning hand (pair of 10s or better)
Any four cards to a royal flush
Any four cards to a straight flush
Four high cards
Any four cards to an open ended straight
Avoid the side bets. Even though these side bets are enticing, they have a huge house edge. The house advantage on these bets can be as much as 36%. Concentrate instead on playing with the strategy listed above.
Let It Ride Etiquette
Here are some tips for keeping things cool at the table:
There are three circles in front of each seat that are designated for your first three bets. Place your chips within these circles
Do not touch your cards until you are allowed to look at them
Players are not allowed to discuss their cards during a hand. When you look at your cards, make a reasonable effort to keep them hidden from view
If you want to let a bet ride, place your cards face down beneath the bet
Do not touch your bets with your hand when you want to take them back. Instead, you can motion that you want your bet back by scraping your cards across the table like you would in blackjack.
Ready to Play Let it Ride?
If you want to try out Let it Ride, make sure to check out an online casino like Cherry Red Casino. Cherry Red offers Let it Ride in both play money and real money, so you can practice before hitting the real tables.

#1 Rated Let it Ride Casino - CherryRedCasino.com
(USA-Friendly!)
Cherry Red is definitely our favorite online casino for playing Let it Ride. They offer Let it Ride in both play money and real money variations, so you can learn the game before risking real money.
If you decide to sign up at Cherry Red, make sure to use the unique sign-up link below. It guarantees you a 100% up to $777 bonus at Cherry Red on your first deposit. Learn more at our full Cherry Red review.
» $777 Bonus via this link » Full Cherry Red Casino Review