Complete Guide to Video Poker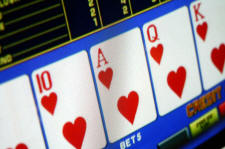 Video Poker is basically a mechanical version of 5 Card Draw except it is played against the dealer instead of against other players. The object of the game is to get the best 5 card poker hand by drawing 5 cards, discarding the ones you don't want and then getting replacement cards to make the best hand possible.
A basic round of play at a video poker machine looks something like this:
1. Find the machine you want and insert the coins to play Press or click the "Deal" button to get your first five cards
2. Select the cards you want to keep (if any) by clicking on them and then press or click the "Hold" button
3. Press or click the Deal button again to discard the cards you don't want and get new cards
4. If you end up with a strong poker hand, the game will award money to you based on a pay scale posted on the video poker machine
The pay tables vary from game to game but they look something like this:

This pay table shows the payouts for various poker hands you can get at a common video poker machine. The more coins you play, the bigger your winnings are. If you deposit 5 coins, the payout rates are much higher for winning hands.
Every hand except the royal flush increases the payout at a steady rate. If you look at the royal flush line, you'll see that the increase in payouts for a royal flush between 4 coins and 5 coins is a huge jump. Because of that, you should always play the maximum number of coins to increase your overall payback percentage.
In most video poker machines the weakest hand you can get a payout for is a single pair of jacks or better. If you end up with a pair of tens or lower, you won't get anything for your efforts. With that in mind, you'll want to adjust your discarding strategy to only go for hands better than a single pair of tens.
Hand Definitions:
In case you don't know, here's each of the important hands you can make in Video Poker: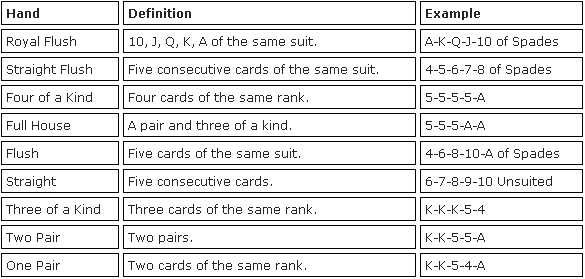 Video Poker Tips
Here are some easy-to-follow tips for improving your odds at Video Poker:
If you play video poker with a smart strategy, it will give you the lowest house advantage of any game in the casino. In fact, if you play the maximum number of coins every time and play enough hands to hit a royal flush once in a while, it can give you the advantage.
Over the long run, you'll hit a royal flush once every 40,000 hands in most video poker machines. This doesn't mean you'll hit the royal flush every time you play exactly 40,000 hands. In other words, there's a 1 in 40,000 chance to hit a royal flush during any random hand.
Do your research before playing at any specific video poker game. If you look up the difference between "Jacks or Better 9/6" and "Jacks or Better 8/5" you'll see that the 9/6 version only gives you an expected loss of $3.45 per hour while the 8/5 version has an expected loss of $20.25 an hour! The names are similar but the difference in house advantage is huge.
There's a strategy guide for every video poker game out there. You can just Google the name of the video poker game followed by the word "strategy."
Look for video poker machines that have jackpots or progressive jackpots. Even though the odds of hitting a jackpot on any particular hand are small, the overall return increases the payout rate in the long run.
If you're new to video poker, don't be afraid to take your time analyzing every hand you get. Nobody is going to yell at you for playing too slow in video poker.
Never draw four cards if you can keep three to a royal flush. Always keep 5 card winning hands unless you can draw 1 to a royal flush.
Don't discard a flush even if you can draw 1 card to a straight flush. The only time you should break a flush is if you can draw to a royal flush. Never discard a straight to draw to a straight flush, even if you only need 1 card for the straight flush.
Ready to Play Video Poker?
If you like the looks of Video Poker, you can get started right now at an online casino! We've rated the best Video Poker casinos, and decided that Rushmore Casino is the #1 overall online casino for Video Poker.

#1 Video Poker Casino - Rushmore Casino
Rushmore Casino takes first place as the best online casino for video poker because it offers a nice amount of video poker games, solid payout tables and a long standing reputation for security and fairness. If you take your business to Rushmore Casino, you won't be disappointed. The software and graphics at Rushmore Casino are very modern so you'll have a lot of fun at Rushmore without worrying about crashes or other software problems. Huge video poker jackpots round this whole deal out, making Rushmore Casino our number one pick.
» $888 Bonus via this link » Full Rushmore Casino Review